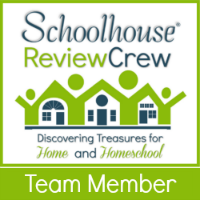 The 2014 Schoolhouse Review Crew year is winding down.  I have two more product reviews coming out next week to close out the year.  It has been a great year.  I have had the opportunity to review some wonderful products and have learned so much from the amazing people on the Crew.  Being a part of the Review Crew has been a fantastic experience for me.
As wonderful as it has all been, I have made the decision to step down from the Review Crew.  Reviewing products takes a lot of time — time I really don't have.  I desperately need to simplify my schedule and make room for some of the other things I've got on my heart (like sleep.  I definitely have sleeping on my heart…)
So what does all this mean for you?  It means that you will see a lot less reviews on this blog.  I will still tell you about my favorite products, but they will be products I have purchased and loved rather than products I agreed to test for a company.  I may still take an occasional review for a company, but I will no longer be a part of a review team, and any reviews I agree to do will be few and far between.
That means I will have more time to write.  There are a number of posts that have been sitting on the back burner because I just didn't have time to do it all.  It's time to dust those posts off and share them with you.  There are lots of kitchen recipes, DIY personal care recipes and projects I have wanted to post but just couldn't find the time to take all the pictures and do the recipe trials.  There are also homeschool, family and life management posts I've been wanting to write.  Now I hope to have more time to devote to all those things.
Thank you for being a Gallimaufry Grove reader.  Tune in next week for the last 2 reviews of the 2014 Schoolhouse Review Crew year.
Have a fabulous day!
Angela
Never miss another post!  Follow Gallimaufry Grove in the sidebar!